We had a super hot week last week, with the humidity, the temperature reached above 40℃ in some days. The last time a heat wave lasted this long was in 1946 🙁 . Even the government issued heat wave warning and asked residents to stay in cool environment.  In this type of weather, I didn't want to cook and everybody didn't have a big appetite. Therefore, I made this spicy cold noodle dish, which doesn't require much cooking except boiling the noodles. And spicy normally brings better appetite.
You'll need:
Noodles: I used Italian spaghettini, takes less time to cook
1/2 English cucumber
1/2 tbsp Sesame oil
1.5 tbsp chili oil or chili sauce, adjust the quantity based on your taste
3 tsp Sugar
2 tsp Chinese black vinegar
a pinch of Salt
1 tbsp light soy sauce
1 clove of garlic
1 green onion/scallion
A handful of toasted peanuts (optional)
1/4 tsp Sichuan peppercorn oil (optional)
Preparation:
Smash and finely chop the garlic clove
Chop scallion for garnishing
Wash, peel and shred 1/2 cucumber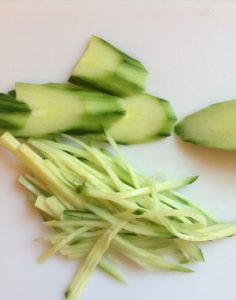 Smash toasted peanuts for garnishing. Tips:

I bought toasted peanuts, you can also toasted your own peanuts. Simply Google "how to toast peanuts", you will find a ton of posts and videos showing you how...
Put toasted peanuts in the Ziploc bag and use roller pin to smash the peanuts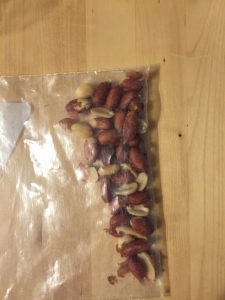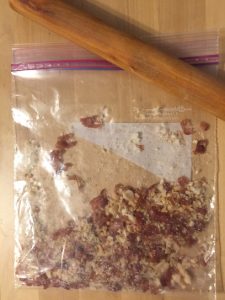 Instructions:
Bring a pot of water to a boil, once the water is boiling, add a pinch of salt and a drop of oil. Cook the spaghettini to al dente, and then drain the water.

Add 1/2 tbsp sesame oil to the pasta, mix well till the sesame oil penetrates among the noodles. and noodles don't stick to each other.
Tips: use chopsticks to stir up the noodles and mix well. Repeat a couple of times. This will prevent noodles from sticking to each other and help noodles to cool down. To speed up the cooling, use an electric fan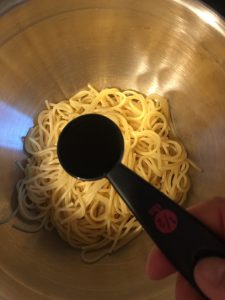 Once the noodles cool down, add sugar, vinegar, salt, light soy sauce, chili oil/chili sauce, finely chopped garlic, mix well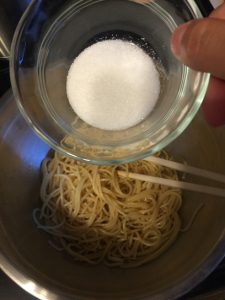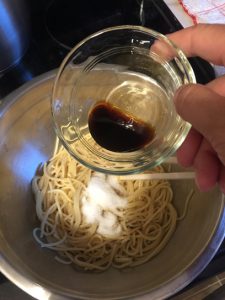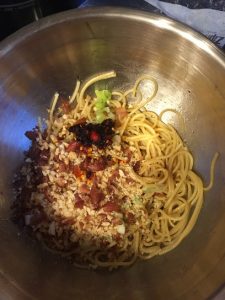 Add shredded cucumber, mix well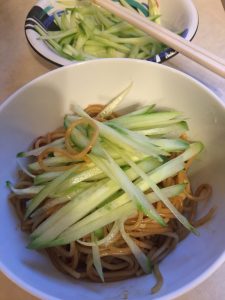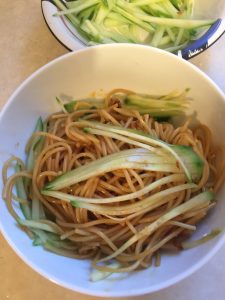 Taste, and adjust the seasoning to your liking. Enjoy!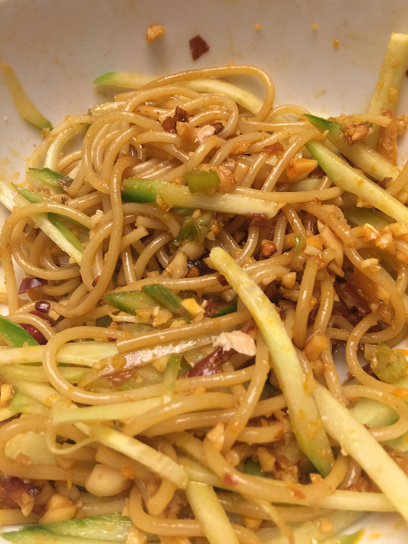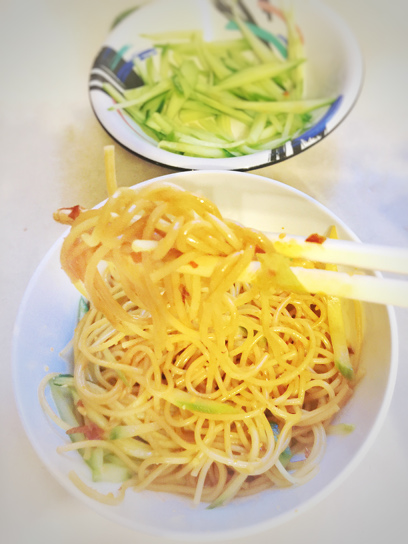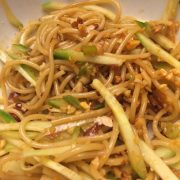 Print Recipe
Szechuan Cold Noodles
Cold noodle salad. Ideal dinner for a hot summer day!

Ingredients
1/2

English cucumber

1/2

tbsp

Sesame oil

1.5

tbsp

Chili oil or chili sauce, adjust the quantity based on your taste

3

tsp

Sugar

2

tsp

Chinese black vinegar

A

pinch of

Salt

1

tbsp

Light soy sauce

1

clove of

Garlic

1

Green onion/scallion

A

handful of

Toasted peanuts

optional

1/4

tsp

Sichuan peppercorn oil

optional
Instructions
Bring a pot of water to a boil, once the water is boiling, add a pinch of salt and a drop of oil. Cook the spaghettini to al dente, and then drain the water.

Add 1/2 tbsp sesame oil to the pasta, mix well till the sesame oil penetrates among the noodles. and noodles don't stick to each other.

Tips: use chopsticks to stir up the noodles and mix well. Repeat a couple of times. This will prevent noodles from sticking to each other and help noodles to cool down. To speed up the cooling, use an electric fan

Once the noodles cool down, add sugar, vinegar, salt, light soy sauce, chili oil/chili sauce, finely chopped garlic, mix well

Add shredded cucumber, scallions, and mashed toasted peanuts, Sichuan peppercorn oil, mix well

Taste, and adjust the seasoning to your liking

Enjoy

Notes
Adjust the quantity of chili oil/chili sauce based on your liking.
Sichuan peppercorn oil gives numb feeling on your tongue, ignore it if you don't like the sensation