Cold noodle salad is a very common Chinese dish in summer. It is so easy to cook (make) -- basically, just combine all the sauces and seasonings together with the noodles. In less than half an hour, dinner is ready to serve.
You'll need:
Instructions:
Bring a pot of water to a boil, once the water is boiling, add a pinch of salt and a drop of oil. Cook the spaghettini to al dente, and then drain the water well.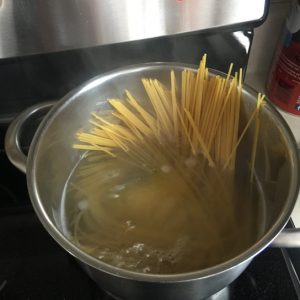 Once the noodles are well drained, put in a big bowl, add 1 tbsp sesame oil and 1 tbsp chili oil, mix well. Set aside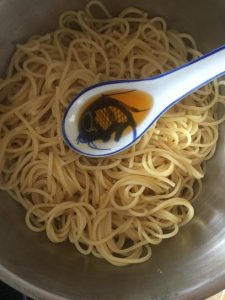 Heat up a fry pan or saute pan over medium heat, add 1.5 tbsp cooking oil. Once the oil is hot, saute minced ginger, garlic, and one portion of finely chopped green onion till aroma, about 1-2 minutes. Transfer to the spaghetti.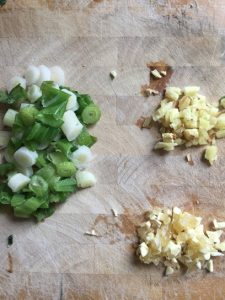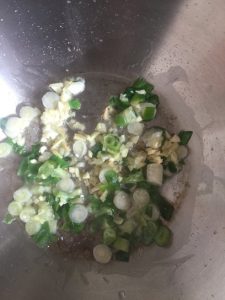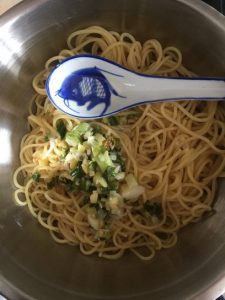 Add 1/2 tsp salt, 1 tbsp light soy sauce , 1 tbsp premium soy sauce, 1 tsp dark vinegar, 1/2 tsp sugar, ¼ tsp chicken broth mix and 1 tbsp chili sauce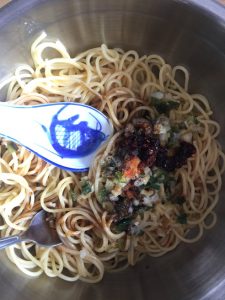 Crush roasted peanuts, and add to the spaghetti, then add chopped cilantro, mix well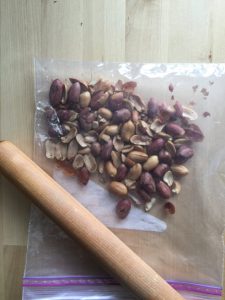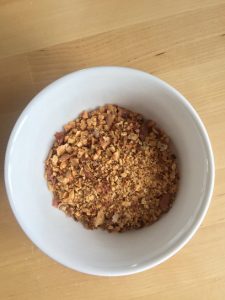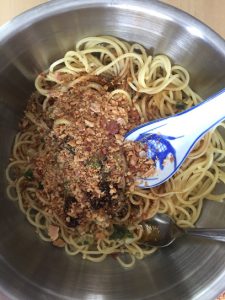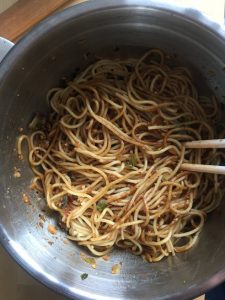 Serve & Enjoy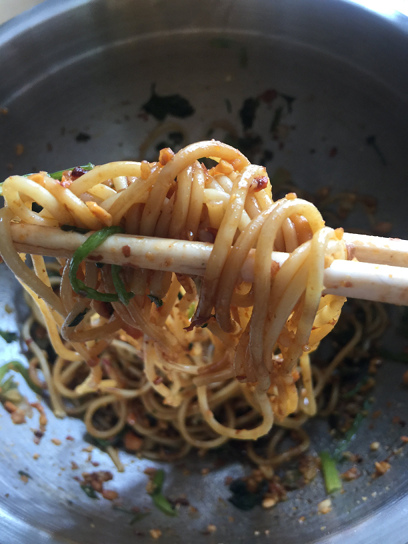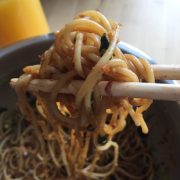 Print Recipe
Cold Spicy Noodle Salad
Ingredients
400

g

spaghetti or spaghettini

1

green onion, finely chopped

1

clove of garlic, minced

1

tsp

minced ginger

1.5

tbsp

cooking oil

1/2

tsp

Sichuan peppercorn oil or ground Sichuan peppercorn

1

tbsp

chili oil

1

tbsp

sesame oil

1/2

tsp

salt

1

tbsp

light soy sauce

1

tbsp

premium soy sauce

1

tsp

dark vinegar

1/2

tsp

sugar

1/4

tsp

chicken broth mix

1

tbsp

chili sauce (e.g. LaoGanMa chili sauce)

A

handful of

chopped cilantro for garnishing

1/4

cup

roasted peanuts for garnishing
Instructions
Bring a pot of water to a boil, once the water is boiling, add a pinch of salt and a drop of oil. Cook the spaghettini to al dente, and then drain the water well.

Once the noodles are well drained, put in a big bowl, add 1 tbsp sesame oil and 1 tbsp chili oil, mix well. Set aside

Heat a fry pan or saute pan over medium heat, add 1.5 tbsp cooking oil. Once the oil is hot, saute minced ginger, garlic, and one portion of finely chopped green onion till aroma, about 1-2 minutes. Transfer to the spaghetti.

Add 1/2 tsp salt, 1 tbsp light soy sauce , 1 tbsp premium soy sauce, 1 tsp dark vinegar, 1/2 tsp sugar, ¼ tsp chicken broth mix and 1 tbsp chili sauce

Crush roasted peanuts, and add to the spaghetti, then add chopped cilantro, mix well