Chinese vermicelli (bean threads), are usually made from starch and water including sweet potato starch, potato starch, mung bean starch, or yams starch. They are also known as cellophane noodles, glass noodles or Saifun outside China. I always have 2 types of cellophane noodles handy in my pantry: mung bean cellophane noodles (thinner) and sweet potato cellophane noodles (thicker).
My daughter loves mung bean cellophane noodle, and calls it thin pasta :-).
Sweet potato cellophane noodles usually need to be soaked in advance. However, depending on the dish, mung bean cellophane noodles can be used without pre-soaking. Like today's recipe, I am using mung bean cellophane noodles directly without soaking.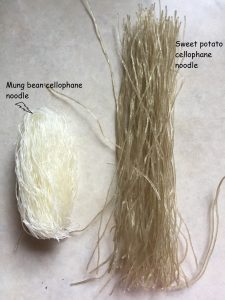 This is an easy-to-make recipe, the two main ingredients are mung bean cellophane noodle and pork rib soup
Remember I said pork rib soup is very versatile, you can serve it as a soup or as an ingredient for another dish. Here you go..
You'll need:
1 brunch of mung bean cellophane noodle
Pork rib soup
Any kind of leafy vegetable you like (optional), I used Chinese napa cabbage
Preparation:
Wash and rinse vegetables per your choice, and cut into big chunks if needed.
Defrost the pork stock if you freeze it in the freezer before
Instructions:
Pour the pork stock to a pot, bring it to a boil
If your vegetable needs a bit time to cook (e.g. Chinese napa cabbages), now it is time to add vegetable chunks to the boiling stock
Add 1 brunch of mung bean cellophane noodle to the stock when the vegetables are almost cooked. Taste to know when the noodles are cooked.
Serve & Enjoy!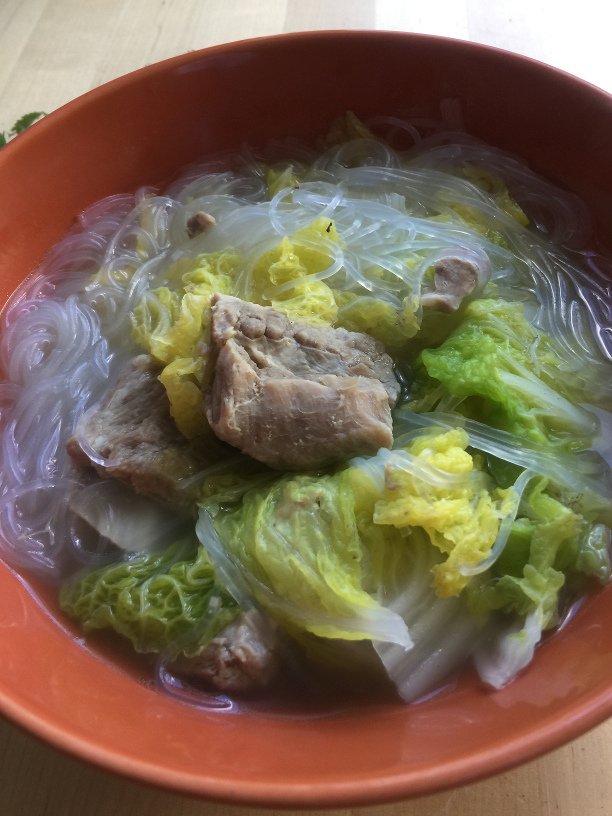 Cooking Tips:
If your choice of vegetable takes almost no time to cook, then add cellophane noodles first, and then vegetables
Adjust the taste with a pinch of salt or chili oil or chili source as you like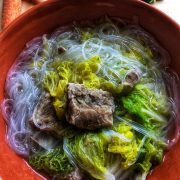 Print Recipe
Pork Stock with Vermicelli
Ingredients
1

brunch of

mung bean cellophane noodle

4

cups of

pork stock

Few

leaves of

leafy vegetable
Instructions
Preparation
Wash and rinse vegetables per your choice, and cut into big chunks if needed.

Defrost the pork stock if you freeze it in the freezer before
Cooking Instruction
Pour the pork stock to a pot, bring it to a boil

If your vegetable needs a bit time to cook (e.g. Chinese napa cabbages), now it is time to add vegetable chunks to the boiling stock

Add 1 brunch of mung bean cellophane noodle to the stock when the vegetables are almost cooked. Taste to know when the noodles are cooked
Notes
If your choice of vegetable takes almost no time to cook, then add cellophane noodles first, and then vegetables
Adjust the taste with a pinch of salt or chili oil or chili source as you like