This recipe follows a recipe from ShanXi province called "Shan Xi You Po La Zi" (陕西油泼辣子). It'd better use the chili powder from ShanXi province. But it is hard to find it in my local Chinese grocery store, so I just used the chili powder I found in the store.
Once made, store the oil in a ceramic or glass container with lid. Then use it in noodles, salad, soup etc.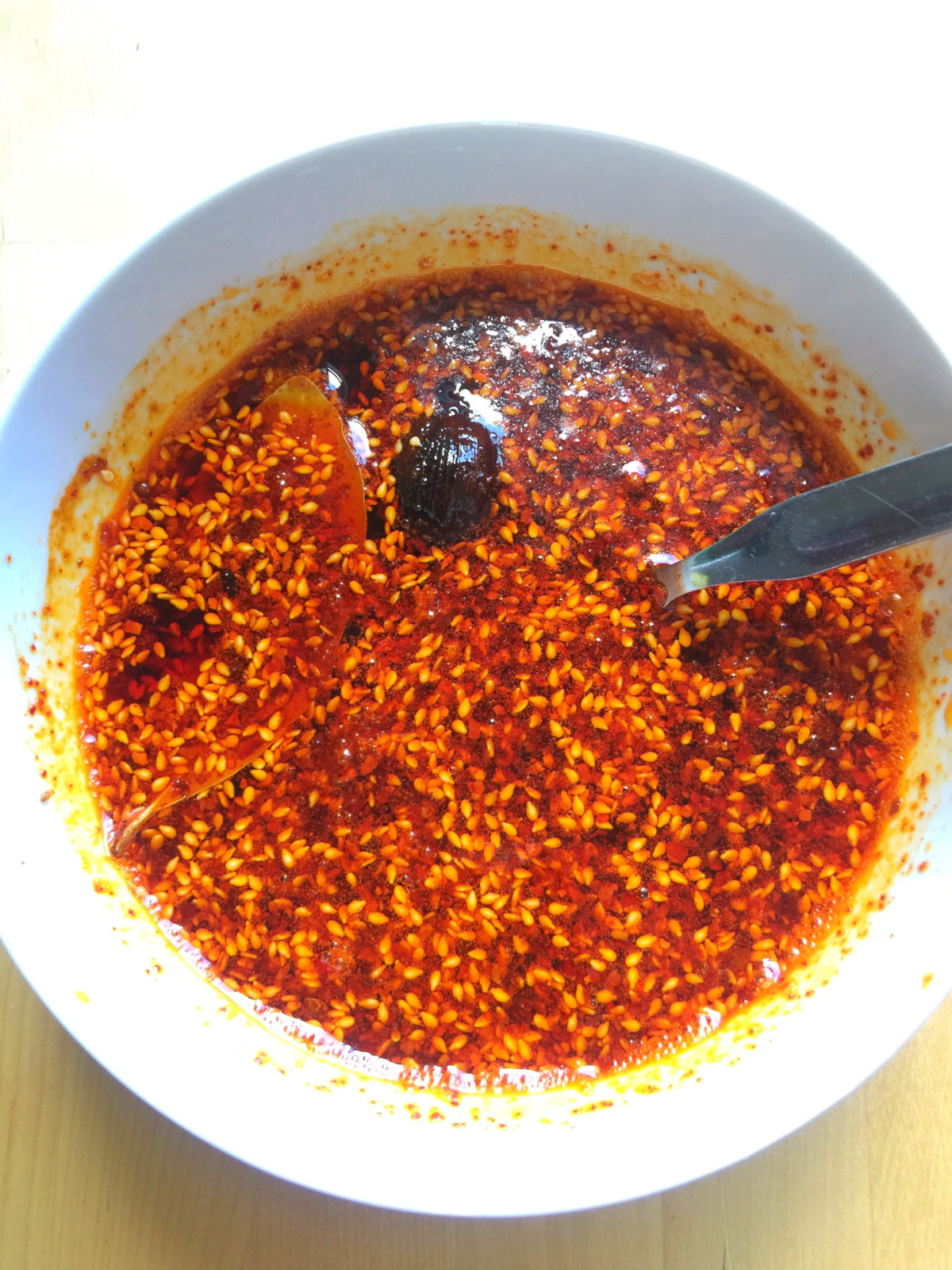 Ingredients and notes
You'll need ground chili, Szechuan peppercorn, salt, bay leaf, Tsaoko Amomum fruit, nutmeg, cooking oil, roasted white sesame, and vinegar.
50 g ground chili
1/2 teaspoon salt
3 g Sichuan peppercorn
1 bay leaf
1 Tsaoko Amomum Fruit
2 nutmeg
1 cup of cooking oil
15 g roasted white sesame
2 teaspoon vinegar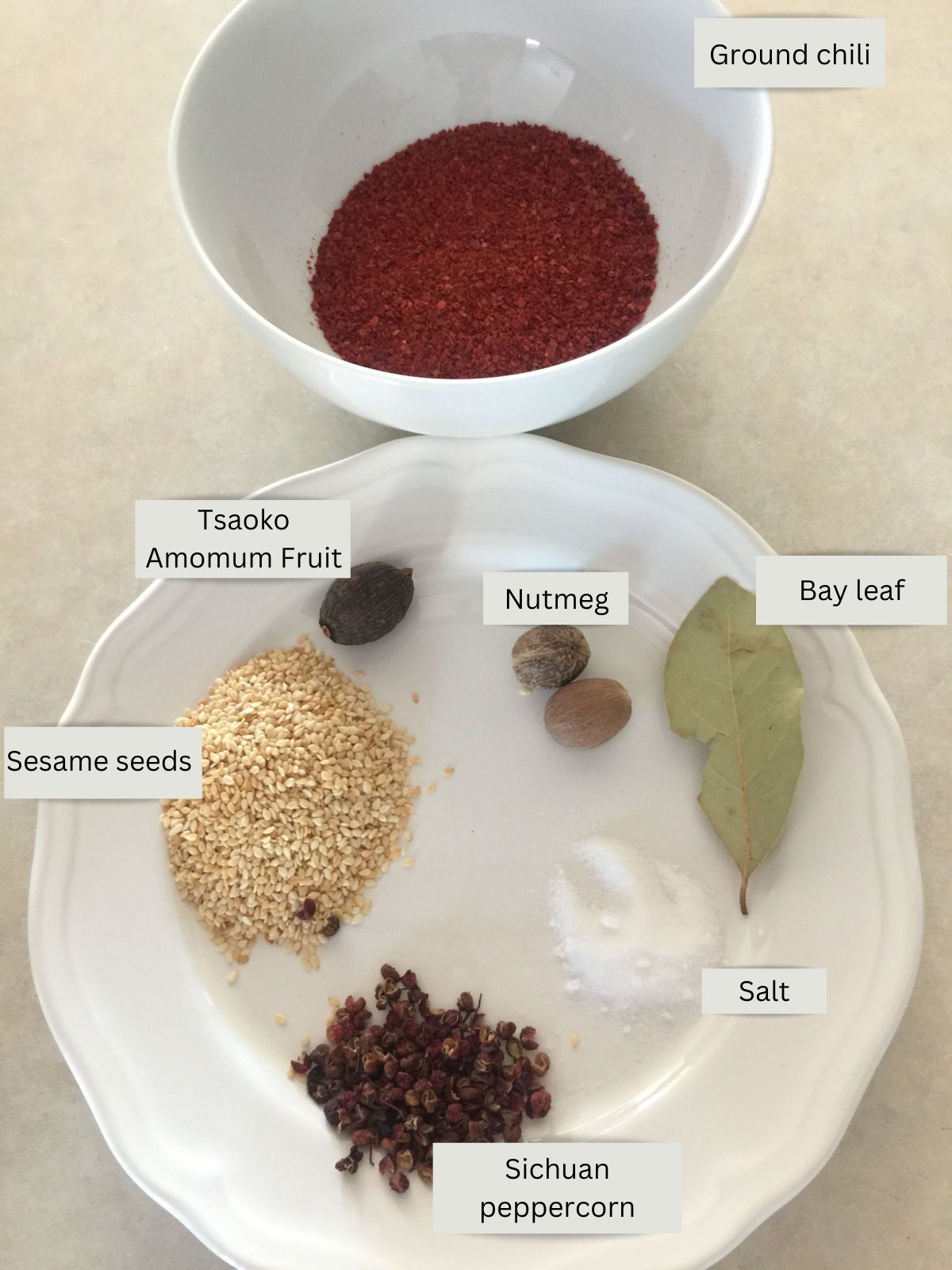 Variations
Vinegar: I used Chinese black vinegar. You can substitute with vinegar you have in your pantry. But I don't recommend apple vinegar or balsamic vinegar.
Ground chili: Either chili flakes, ground chili, or chili power works for this recipe. I found that coarse ground chili with seeds work better in this recipe.
Sichuan pepper corns: it is critical ingredient for this recipe, do not omit it. You can usually find those in your local Chinese store.
Step-by-step Instructions
Take a bowl, mix ground chili, salt and sesame together.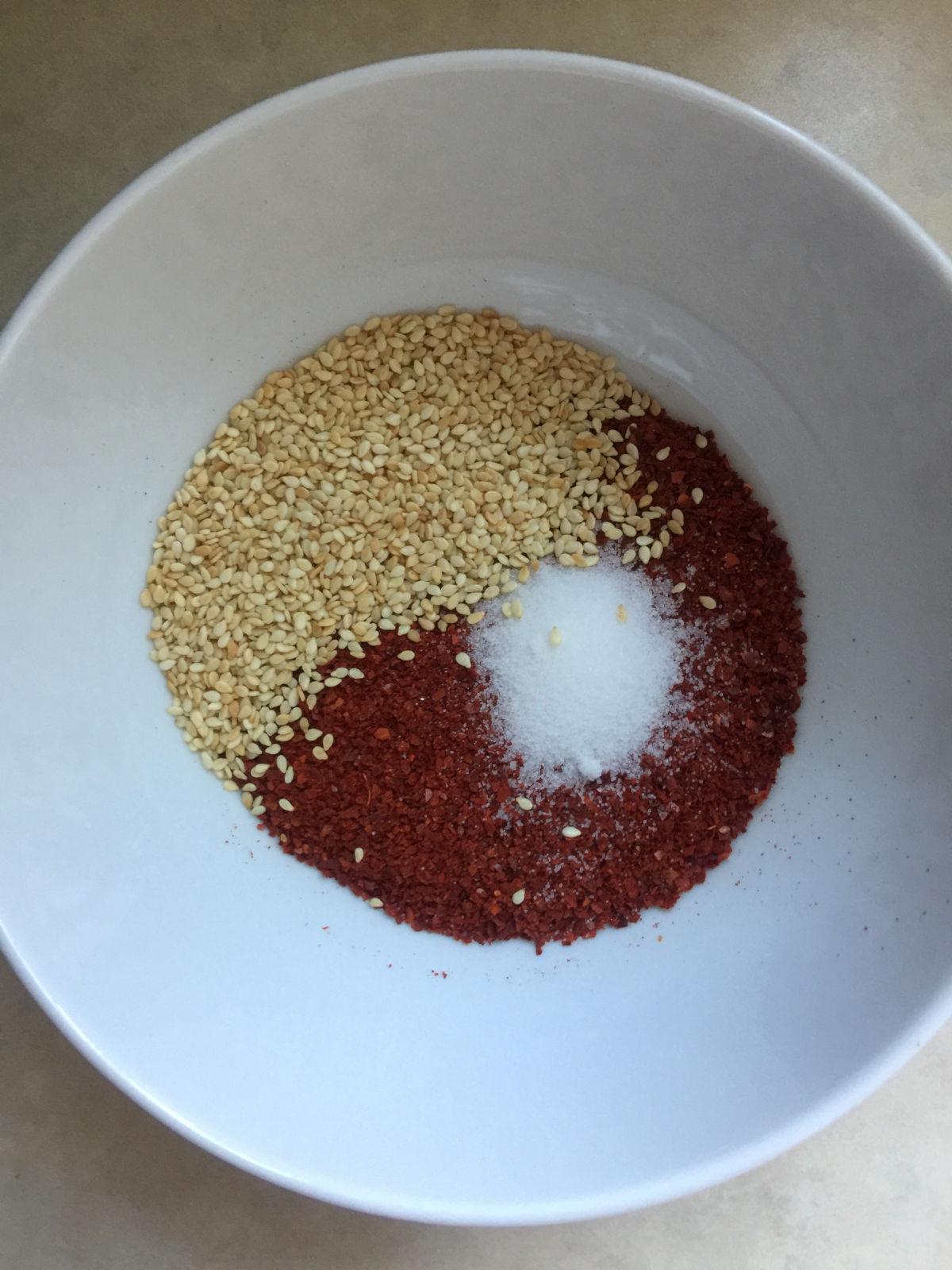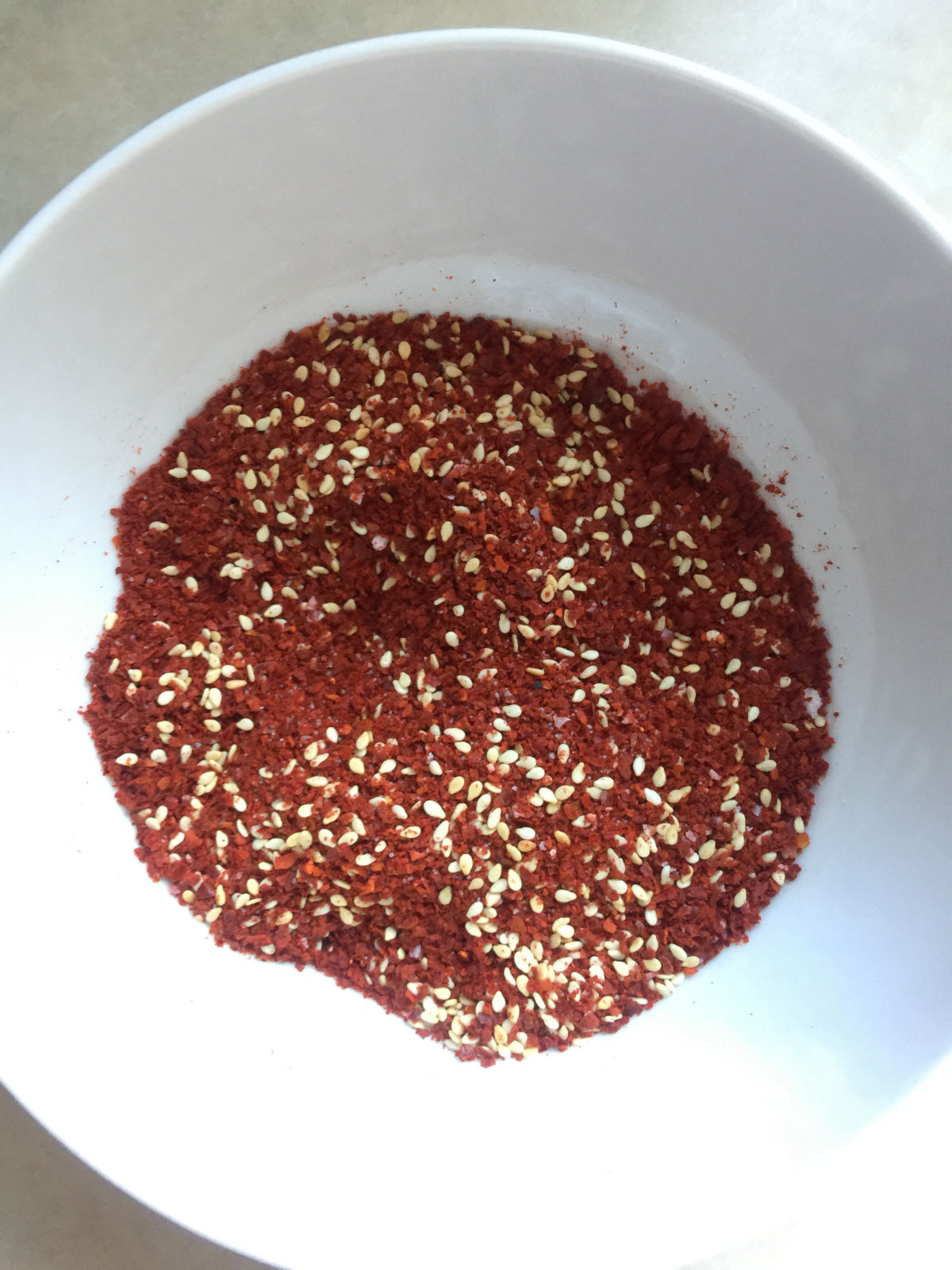 Add the rest of the dry ingredients to the bowl.
Heat up cooking oil in a wok over the medium heat. When the oil is hot, and turn off the heat. Let the oil cool down for 1-2 minutes. DON'T handle the hot oil immediately.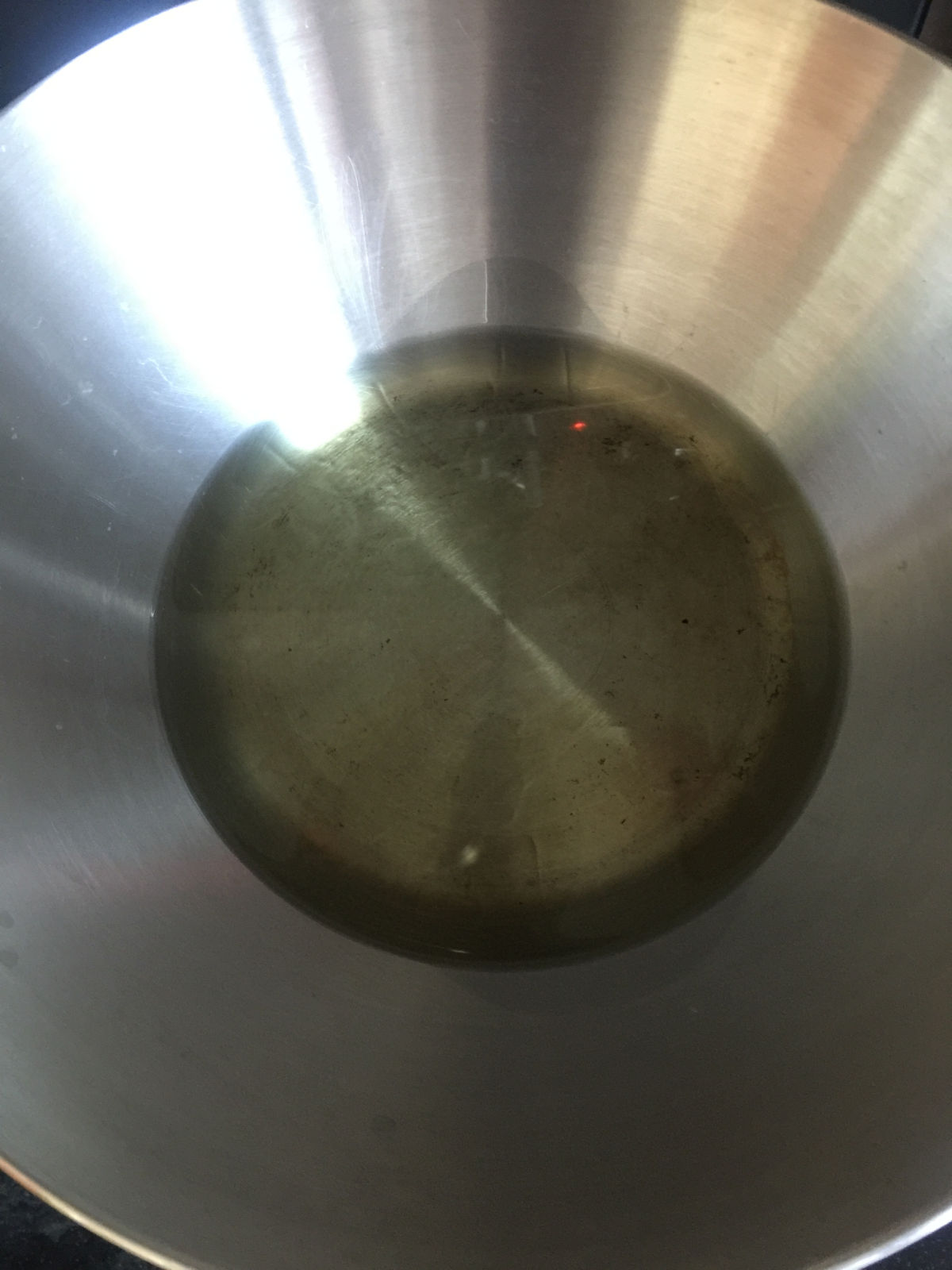 Don't pour the oil to the bowl all at once. Pour 1/3 of oil to the bowl, stir and mix with the dry ingredients in the bowl. (Caution: carefully handle the hot oil.) You'll see bubbles in the bowl while pouring the hot oil, meanwhile you'll smell the aroma and hear the drizzling sound. Then pour another 1/3 of the oil, stir and mix. Repeat the same for the remaining oil. Once oil has been transferred to the bowl, add 2 teaspoon of vinegar, and let it cool off (the bowl is very hot, don't burn your fingers).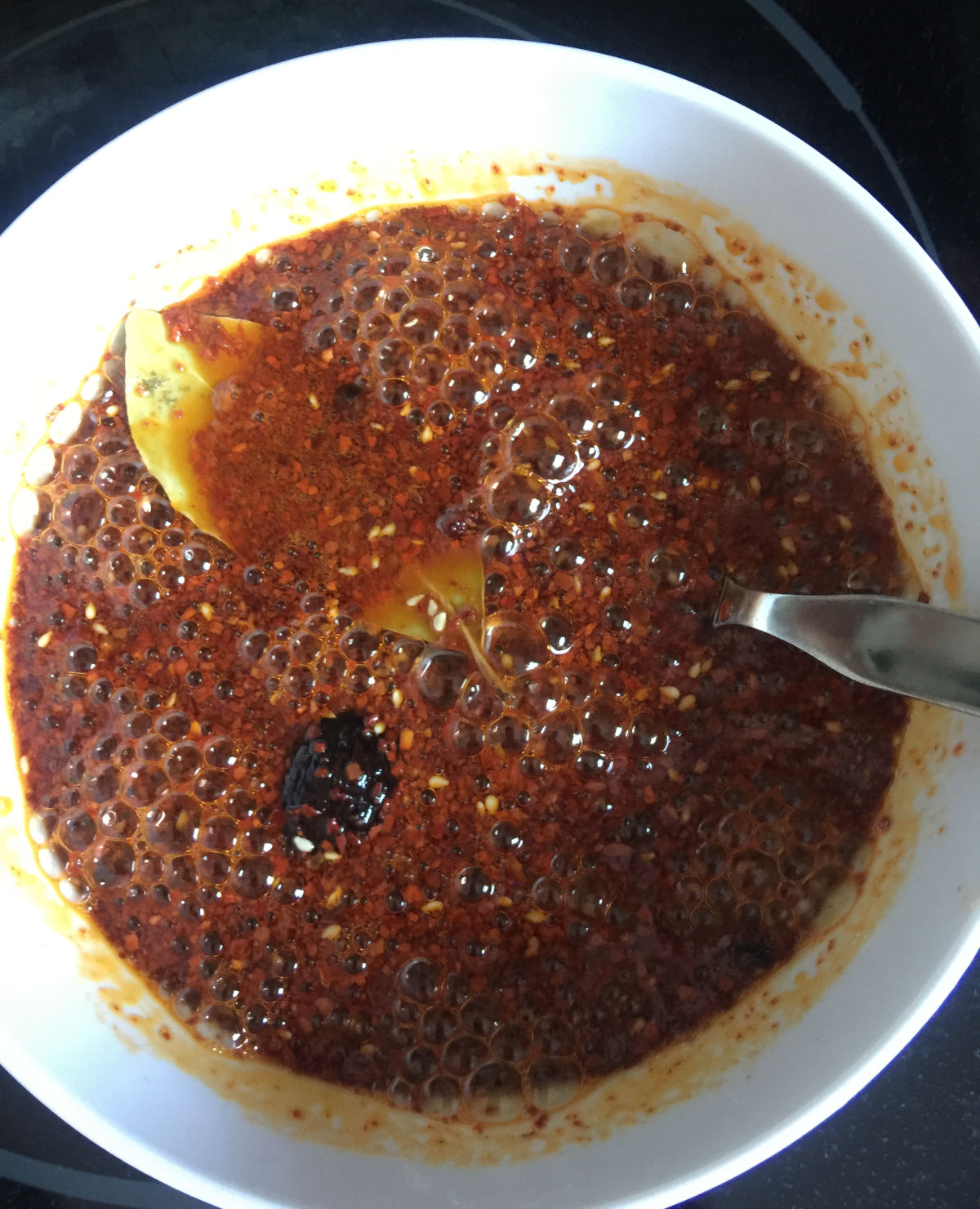 Serve and Enjoy!
Serving suggestions
The chili oil tastes better the next day once the taste of seasonings are combined together. If you usually adore spicy and hot sauce, you can serve it as a salad dressing, or as a BBQ dip.
Storage
Better store the chili oil in a ceramic or glass jar with a lid. Good for 1 week in room temperature.
Pairing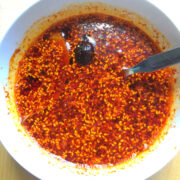 Print Recipe
Homemade Chili Oil
Condiment for noodles, salad. Hot sensation. Works perfectly as a dip for BBQ meats.
Ingredients
50

g

ground chili

½

teaspoon

salt

3

g

Sichuan peppercorn

1

bay leaf

1

Tsaoko amomum fruit

2

nutmeg

1

cup of

cooking oil

15

g

roasted white sesame

2

teaspoon

vinegar
Instructions
Take a bowl, mix ground chili, salt and sesame together. Add the rest of the ingredients to the bowl

Heat up cooking oil in a wok over the medium heat. When the oil is hot, and turn off the heat. Let the oil cool down for 1-2 minutes. DON'T handle the hot oil immediately

Don't pour the oil to the bowl all at once. Pour 1/3 of oil to the bowl, stir and mix with the dry ingredients in the bowl. (Caution: carefully handle the hot oil.) You'll see bubbles in the bowl while pouring the hot oil, meanwhile you'll smell the aroma and hear the drizzling sound. Then pour another 1/3 of the oil, stir and mix. Repeat the same for the remaining oil. Once oil has been transferred to the bowl, add 2 tsp vinegar, and let it cool off (the bowl is very hot, don't burn your fingers)
Notes
The chili oil tastes better the next day once the taste of seasonings are combined together
Better store the chili oil in a ceramic jar with a lid
Coarse ground chili with seeds work better