You'll need:
600 g ground pork
12 dried mushrooms
1 cup frozen edamame beans, no need to thaw
½ tsp five spice powder
1 tbsp cooking wine
4 tbsp dark soy sauce
1 tbsp sugar
½ tsp salt
3 cup water
2 tbsp cooking oil
2.5 tbsp minced garlic
1 tbsp finely chopped green onion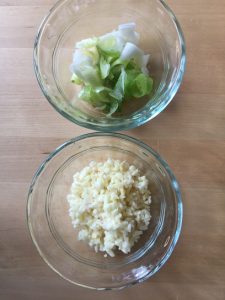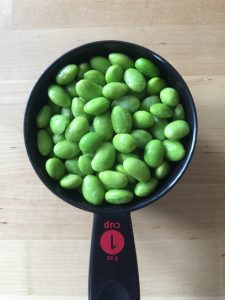 Preparation:
Soak dried mushrooms in the water till soft. Then chop them into small chunks. Set aside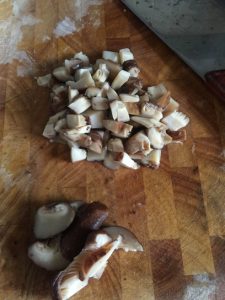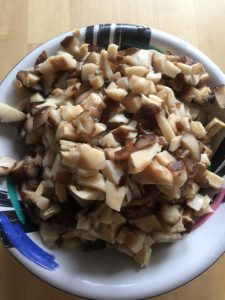 Instructions
Heat up 2 tbsp cooking oil in wok over medium-high heat
Saute 2.5 tbsp minced garlic. Add ground pork and stir fry for a couple of minutes till no more pink color
Add five spice powder, cooking wine, dark soy sauce, sugar, salt and water. Cover the wok with a lid and braise for 1 hour over low heat. Then add chopped mushrooms, and continue braising for 30 minutes, and then add frozen edamame beans, and braise for another 30 minutes. Then turn off the heat.
Sprinkle finely chopped green onion (optional)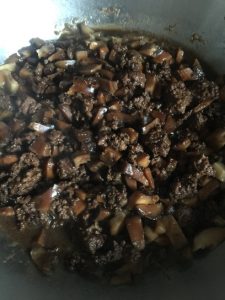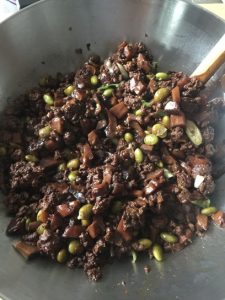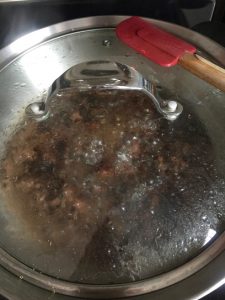 Serving Tips:
You can enjoy this dish with either rice or noodles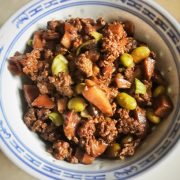 Print Recipe
Braised ground pork with mushrooms
Ingredients
600

g

ground pork

12

dried mushrooms

1

cup

frozen edamame beans, no need to thaw

1/2

tsp

five spice powder

1

tbsp

cooking wine

4

tbsp

dark soy sauce

1

tbsp

sugar

1/2

tsp

salt

3

cup

water

2

tbsp

cooking oil

2.5

tbsp

minced garlic

1

tbsp

finely chopped green onion
Instructions
Preparation
Soak dried mushrooms in the water till soft. Then chop them into small chunks. Set aside

Instructions


Heat up 2 tbsp cooking oil in wok over medium-high heat

Saute 2.5 tbsp minced garlic. Add ground pork and stir fry for a couple of minutes till no more pink color

Add five spice powder, cooking wine, dark soy sauce, sugar, salt and water. Cover the wok with a lid and braise for 1 hour over low heat. Then add chopped mushrooms, and continue braising for 30 minutes, and then add frozen edamame beans, and braise for another 30 minutes. Then turn off the heat.

Sprinkle finely chopped green onion (optional)
Notes
Serving Tips:
You can enjoy this dish with either rice or noodles